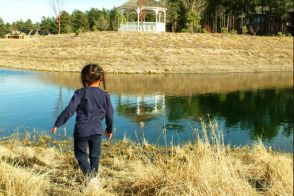 Water Program

Water is a very scarce resource in this arid region, and its consumption is closely monitored by the State of Colorado to ensure users are not consuming more than their allotment.

Although King's Deer residences each have their own well, their allowed annual consumption is limited. The consumption is calculated by the King's Deer Homeowners Association by using the water meter reading of each household. The annual consumption of each house is computed from annual readings, and then they are all combined into a total consumption for the development. That is then reported to the Colorado Division of Water Resouces (DWR) and the Office of the State Engineer.

The DWR reviews the annual draw from each well, to verify the annual limit has not been exceeded. Well owners who exceed the annual draw can expect to hear something from the DWR. King's Deer HOA is also obligated to perform water augmentation for downstream water users. If you are not familiar with the concept of water augmentation please download and review our short Primer on Water Augmentation.

Q. How can I get my past water meter readings and the water consumption for the past year?
The last two meter readings and last year's water consumption is available to every King's Deer homeowner by logging in to the Owner Area of this web site. Once logged in, select "Water" on the menu. Water usage information is available most of the year. If you are an owner without access to the owner area, please request access information from the homeowners association business office (admin@kingsdeer.org), and give your name and King's Deer property address.

Q. When do we report the water meter reading to the Association?
A. The reporting period is October 1-31. Each year in late September you will receive a notice in the mail of when, where, and how to submit your meter reading.

Q. What if I don't report?
A. We certainly hope that you would cooperate in helping the HOA fulfill its legal obligation. The covenants (paragraph 11) require each owner to provide this information to the association. Owners who do not provide the requested information by the deadline could see covenant enforcement action, resulting in possible fines. Additionally the Colorado Division of Water Resources and the Office of the State Engineer will be informed of your failure to report which could result in your well being capped.