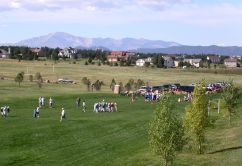 Recreation
Sports Field A large maintained regulation soccer field provides a great place for local teams to practice and compete. Paved parking is available off the west end of Sixpenny Lane.
Golf Course The King's Deer Golf Course is a public course that opened in 1999.
Playground A large, centrally located playground, offers hours of fun for King's Deer families. A great place to spend a Sunday afternoon. The playground is accessed from the west end of Sixpenny Lane, off Royal Troon Drive.
Trail Network Over seven miles of maintained trails throughout King's Deer offer residents and guests enjoyable recreational hiking and biking paths with spectacular views of the Rocky Mountains and Pikes Peak. Our trails offer a safe and enjoyable route for kids to get to the Prairie Winds Eementary School. Trail Map
Cycling The quiet roads through and around King's Deer offer a perfect cycling environment. The rolling hills and high elevation provide moderate exercise without being excessively strenuous. Of course, whenever cycling always wear bright colored clothing and a protective helmet. And please share the road.