&nbsp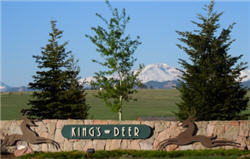 Welcome!
This is the official web site of the King's Deer Homeowners Association. Here you will find information about the association, its activities, events, policies, and some information about the local area.
The King's Deer HOA office is located at the King's Deer Golf Course Golf Course Club House (19255 Royal Troon Drive).
VISITORS! Are you looking for the covenants, financial reports, meeting minutes, or other corporate documents? If so, follow the Library link at left.
Nominees for King's Deer Board of Directors
Joe Willis, Kathy Carlson, Kris Salo, Patrick Staffieri
Water Meter Reading
Required In October
REMINDER: All water meter readings must be submitted to King's Deer HOA during the month of October, every year. This is a requirement in the State-issued well permit. Please ensure you comply by submitting your reading now if you have not already done so.
Contact the HOA office (488-2840) if you have questions or need assitance.
Thank you.
King's Deer Trail Repairs
The King's Deer trail system is currently being repaired after the heavy rains we encountered this year. Repairs will include establishing drainage ditches on the sides of the trail, plus installing some drainage catch basins and culverts. Work is expected to continue into the month of September. If you use the trails during this time, please avoid the areas where our contractor is working, for your and their safety. Thank you.
Recent Changes
(19/2/2015): Post October 2015 King's Deer newsletter (Library > Newsletter).
(9/26/2015): Post September 10 and 24 ACC minutes (Library > Meeting Minutes) and August financial report (Library > Financial Report).
(9/12/2015): Post nominees for the King's Deer Board of Directors (above).
(9/2/2015): Post August 13 and 27 ACC minutes (Library > Meeting Minutes).
(8/27/2015): Post April, May, June, July financials (Library > Financial Reports)and August CEOC minutes (Library > Meeting Minutes).
(8/7/2015): Insert notice (above) about repairs to KD trail system and post July 23 ACC minutes (Library > Meeting Minutes).
(7/13/2015): Activate the 2015 Garage Sale page and post June CEOC minutes and July 9 ACC minutes (Library > Meeting Minutes).
(7/9/2015): Post June 11 ACC minutes, and April and May Board meeting minutes (Library > Meeting Minutes)
(6/30/2015): Post June 25 ACC minutes (Library > Meeting Minutes)
(6/15/2015): Post notice of canceled June 18 Board of Direcctors meeting
(6/2/2015): Post March 19 Board of Direcctors minutes (Library > Meeting Minutes)